Special Olympics East Hawaii Tournament Results 2016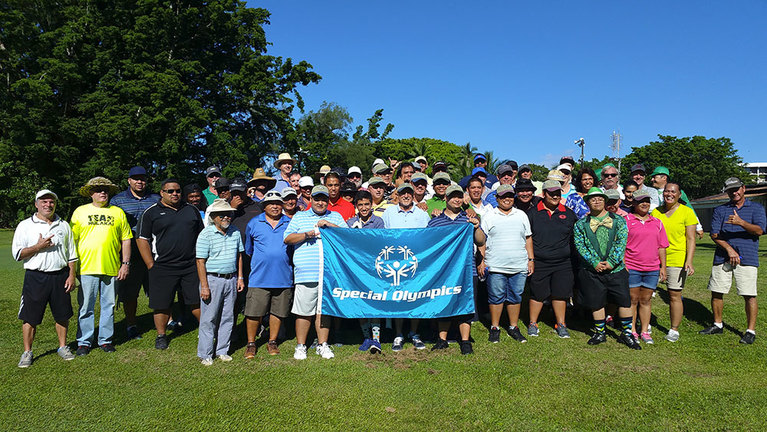 Special Olympics East Hawaii Golf Tournament Results 2016
1st

Cullen Kurohara
Toby Taniguchi
Mel Kawahara
Norman Nishiki

5th

Arnold Kahauwaele
Plez Collins
Tracy Stafford
Frank Grassel

9th

Terry Woerishofer
Kapela Mauai
Tedy Galigo
Ryan Amaral

13th

Daylan Toribio
Karl Taft
Brown Dossett
Rusty Tapp

2nd

Isaiah De Luz
Quinn McCully
Jim McCully
Deron Akiona

6th

Kahiau Kiakona
Alan Leonard
Noah Huihui
Rob Arima

10th

Josh Yonemura
Arnold Tengan
Linda Tengan
Alan Sasahara

14th

Chris Liberato
Willi Allen
Bob Duerr
Josh Countess

3rd

Hiilani Kiakona
Michelle Chun
Paula Uusitalo
Denese Kalima

7th

Jocelyn Garcia
Denise Lefiti
J.E. Orozco
Anela Dalton

11th

Nolan Martin
Gunnar Botz
Curtis Malia
Joe Naikidi

15th

Pohai Naungayan
Greg Brosseau
Joe Funaro
Ward Gardner

4th

Marlin Yu
Mike Middlesworth
Nick Cerra
Mike Liverette

8th

Dusty Cardines
Ali Sadouthian
Jeff Martin
Jeremiah Leonard

12th

Joey Saturnio
Jason Saturnio
Derek Vicente
Haunani Haassenritter
Closest-to-the-Pin Winners:
Nolan Martin
Mel Kawahara
CullenKurohara
Deron Akiona
Josh Yonemura
Bob Duerr
Special Olympics Golf - Waimea Classic 2012-Big Island
Keoki Putters - Kia Manu "Bird Catcher"
Introducing Keoki Putters! Designed, manufactured, and assembled in Hilo, Hawaii. These custom putters are milled from solid billets of 303 stainless steel. They are then mounted on a fluted shaft and finished with a Golf Pride Tour Classic grip. They come in three head weights: 400, 300, and 275 grams. The shaft -in-head design makes for more true, and better feeling putts. Comes available in Face balanced, Mid-toe balanced, Toe balanced, and Mid-heel balanced designs. Loft and lie can be ordered to your individual specs. This putter is Made in the Good Old U.S.A. IT WORKS!
Brilliant hand-made putters straight from the island of Hawaii.
In order to get the most out of your new putter, be sure to check out this amazing putting system at puttmyway.com . "Putt My Way and Win!©" is available as an app on the iTunes® store for iPhone/iPod touch/iPad as well as an ebook version through Apple's iBooks app. Be sure to read Norm's Kia Manu putter review here.
I bought a Kia Manu 3B Keoki putter yesterday.I Took it to the practice green for an hour. From the first putt I knew this putter was special. The balance and weight is far superior then the Ping putter I'd been using for the past 2 years. I played at the Municipal Golf Course in Hilo today which was my first round with the putter. It gave me confidence! What I noticed was the ball rolled off the face immediatly.This Keoki Kia Manu putter will definitely improve my scores in the future.




Ray Caoagdan, Hilo, Hawaii, 8 Handicap, January 5, 2011
George, I would like to thank you and Bobby for the awesome Keoki Putters. The construction , materials, weighting and feel are world class. I took a putting lesson at Eagle Chase Gold Course in Marshville, NC last weekend and was rolling puts in with a new found confidence and consistency. I am enjoying the great scoring improvement the Keoki Putter has brought to my game! Best regards,




Terry Gillick, Marshville, NC
Golf Treasures - Home of Keoki Putters - Come Find Da Kine!
GOLF TREASURES HAS NEW STORE HOURS
TUESDAY - FRIDAY 11:00 AM - 4:00 PM & SATURDAY 9:00 AM - 3:00 PM Stop by today!

It's 2016, and Golf Treasures wants to thank the golf community for all their support. This year marks our 9th year sponsoring Special Olympics East Hawaii Golf. It's also been ten years we have been serving the golf community here on the Big Island. Mahalo for keeping us "The Biggest Little Golf Shop in Hilo".
Keoki Putters is going strong. We now have putters in the State of Hawaii, Canada, Japan, North America, and Scotland. We are currently looking to send our putters to the Lake Malaren Golf Club (Home of the BMW Masters) in Shanghai, China.
Fujikura is still the #1 shaft sold here on the Big Island, and we continue to be a Charter Dealer of these professional golf shafts. We carry the Speeder, Speeder Pro, Pro, Fuel, SIX, and EXS with most in stock. Shafts can be done while you wait!
We continue to carry, and stock Golf Pride, Winn, Lamkin, Avon, Tacki-Mac, Pure, and Super Stroke golf grips. Again, these can be put on while you wait or within a day.
We have a large inventory of new, and experienced golf clubs. Plenty of drivers, wedges, hybrids, putters, golf bags, and everything related to the game of golf.
Please check us out! Remember: "Man blames fate for other accidents, but feels personally responsible for a hole-in-one" "Hit-um long and straight"
-Mulligan the Golf Dog

Golf Treasures is a "Full Service Golf Shop" and has enhanced its club repair and custom fitting services. Featuring a one to two day turnaround on club and shaft repair. Grips can be changed while you wait! Golf Treasures is the only golf shop to offer these services and is the only freestanding golf shop in Hilo.
New & Previously Owned Clubs
Full Service Club Repair - Grips, Shafts, Heads
Golf Bags, Clubs, Balls, Apparel and all Accessories for Hilo Climate
Swing Zone - Club Testing Area

Golf Accessories:
GustBuster Umbrellas and wide assortment of RJ Gloves, Hippo Golf Bags, and Logo Bags.
Golf Balls:
Titleist, Srixon, Nitro, Crystal and more... We carry recycled balls to help the environment.
Don't forget Special Olympics fund raiser golf balls available at Golf Treasures.
Grips:
Grip one, Golf Pride, Avon, Tacki-mac, Winn, Lamkin, Karakal, Karma.
Only the Very Best Shafts:
Fujikura, UST, Aldila, True-Temper, Grafalloy, and Apollo
Professional Golf Gloves, HJ Gloves, and Rain Gloves



Check out new products from Fujikura!
Special Olympics Golf - Waimea Classic 2011-Big Island
East Hawaii Special Olympics Golf Challenge - 2012
Contest Results - Aug. 26, 2012 at Volcano Golf and Country Club
1st Place
Dusty Cardines*
Mark Lewis
Moses Gonsalves
Quinn McCully

2nd Place
Nolan Martin*
Karl Taft
Gary Pagett
Howard Albers

3rd Place
Eleanor Ibarra*
Mike Liverett
Linda Tengan
Arnold Tengan

4th Place
Keola Ogawa*
Richard Peterson
Mike Middlesworth
Tom Williams

5th Place*
Lee Yomes*
Roberta Yomes
Mike Smallwood
Joe Funaro

6th Place
Joey Satumio*
Jason Satumio
James Pacheco
Blaine Pacheco

7th Place

Terry Woerishofer*
Mark Mattice
Ricky Mattice
Richard Palva

8th Place

Pohai Naungayan*
Jim McCully
Ward Gardner
Patty Gardner

9th Place
Marlin Yu*
Bob Wright
Piez Collins
Frank Grassel

* indicates Special Olympics Athlete